Ceraderm
In depth comprehensive skin program and complete moisturizing process
Ceraderm is specifically dedicated to improving the tone and appearance of the skin. It contains clinically proven natural substances that can stimulate collagen synthesis and that are able to act on the skin's architecture. It enhances collagen, elastin and fibronactin fibers density and it can inhibit the production of enzymes that tear down those same fibers. Ceraderm hydrates the skin in its deeper layers with hyaluronic acid while the ceramides actively patch up the outer barrier that is responsible for retaining moisture. Ceraderm represents a serious and comprehensive response to improving the skin's appearance and reducing the major signs of aging.
SUPPLEMENT FACTS
Serving size: 3 caps / Servings per container: 40
Vitamin C (beta-carotene USP 10%)
120 mg
33.5%
Zinc (Zinc Citrate @ 30% elemental zinc)
10 mg
50%
Selenium (as L-Selenomethionine)
50 µg
35%
Collagen Peptides HP-BCP type I & III
1250 mg
*
Phytoceramides with DGDG (digalactosyl-diglycerides)
100 mg
*
Hyaluronic Complex HJ complex™
50 mg
*
White Tea Extract (Camellia Sinensis extract Std .to 95% polyphenols and and 75% catechins)
150 mg
*
Centellosides (Centella Asiatica Std. to 45% centellosides)
75 mg
*
Grape Seed Extract Std. to 95% procyanidines)
100 mg
*
Organic Silica (Bioavailable Orthosilicic Acid)
150 mg
*
* Daily value not established
Other ingredients: Magnesium stearate, gelatin (capsule)
As a dietary supplement, take 3 capsules twice daily with water or as directed by a health care professional. Use regularly over several months.
Caution: Pregnant or nursing mothers, children under 18 and those with a medical condition should consult a health care professional before using this product.
---
REJUVENATION OF THE UNDERLYING STRUCTURE OF THE SKIN
Collagen HP-BCP (Skin)
High Potency Bioactive Collagen Peptides Type I & III
Collagen accounts for more than 70 % of the skin structure, most of which is located between the skin's surface and the fatty tissue beneath. With age collagen production slows down and it is estimated that we lose collagen at a rate of 1.5% to 2% per year from age 30 onwards. Additionally, the remaining collagen fibers become dehydrated because of the depletion of hyaluronic acid and because of oxidative stress. With the loss and breackdown of collagen deep in the dermal layer, the skin gets thinner, wrinkles begin to set in and skin discoloration becomes increasingly visible.

Usefulness of Collagen Supplementation
It has been heavily debated but recent studies show that specific forms of collagen peptides have a positive impact on the skin structure. The results of a 2009 japanese study suggest that "…ingestion of collagen peptide improves the function of deeper regions of the skin rather than function of the outermost epidermal regions", unlike the surface mode of action of skin care creams.
Supplementation with collagen peptide not only increases levels of collagen in the skin - which makes skin more firm and supple - but also reduces the activity of collagenase, an enzyme that breaks down collagen.
In the Journal of Agricultural and Food Chemistry in 2009, Shigemura and al. writes that "…collagen peptide exhibits its effects on health and beauty through mechanisms unique to collagen peptide" and that "Collagen has unique properties that are not found in other proteins, and these properties may be the reason for the effects of collagen peptide ingestion on bones, joints, skin, hair and nails."
The type I collagen provides strength and resistance to the tissues but type III collagen is extremely important as it gives skin its elasticity. Supplying a potent form of collagen is proven useful, but there are many ways to hydrolyse collagen yielding widely different results. The high potency Bioactive Collagen Peptides (HP-BCP Verisol®) is clinically proven to significantly reduce the appearence of wrinkles and increase the skin elasticity by 15%.
Unlike most skin care products making use of highly subjective and misleading self-assessement "studies", the special HP-BCP collagen peptides results and pictures come from published clinical trials. It means a better level of reliability.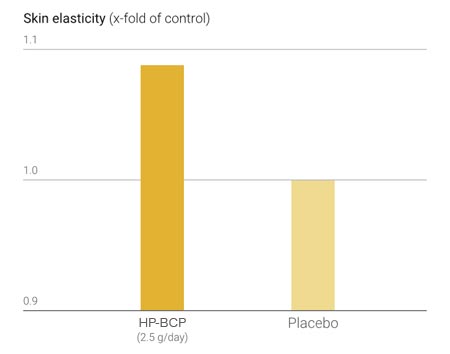 Skin elasticity increased significantly after oral HP-BCP Collagen treatment in comparison to placebo administration. The study involved 69 women aged between 35 and 55 years. This effect could be measured after just 4 weeks of treatment and persisted after 8 weeks.
HP-BCP Collagen significantly improves wrinkles appearance after 4 weeks of oral administration. The study involved 100 women aged between 45 and 65 years and showed that the procollagen concentration in the skin increases by 60%.
White Tea Extract
Elastin Super Protection Agent
Elastin is the other major component of the skin's structure. Elastin fibers aren't as numerous as collagen fibers but they are just as important as they are responsible for the skin's ability to stretch and recoil. However aging and oxydative stress raises the body's production of an enzyme called elastase which is involved in the degradation of elastin. Curtailing and getting elastase under control is critical to secure and optimize skin's elasticity.
New York dermatologist Doris Day, MD, says, "Collagen and elastin go hand in hand in supporting the function of the skin. Elastin allows skin to be elastic, pliable and firm, and collagen makes it plump. If you don't have one, or enough of one, the other can't function and support skin properly."
Comparative studies of 21 botanicals have shown that white tea extract expresses the most potent anti-elastise activity. It suppresses 89% of the enzymatic activity, while green tea only reduces it by 10%. And white tea is just as effective against the collagenase (the enzyme that destroys collagen) with 87% inhibition against 47% for green tea. White tea has also scored highest on the antioxydant activity which makes it extremely useful for protecting the skin against free radical damage. Grape seed extract and selenium add to the overall protective effect of Ceraderm.
Centellosides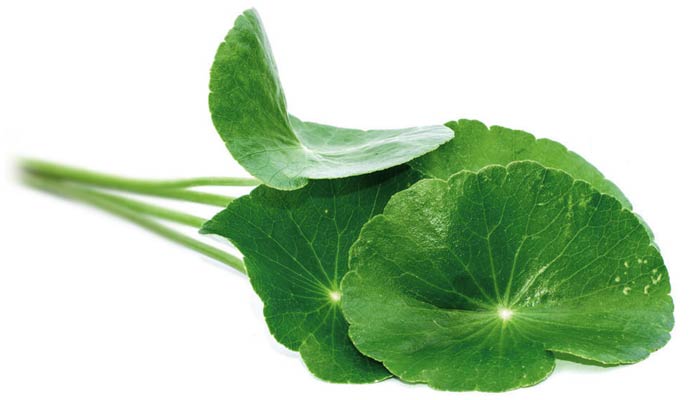 Centella Asiatica is a medicinal plant that contains bioactive chemicals called « centellosides » that exert a vigorous action upon the skin healing and regeneration.
The stimulating action on collagen synthesis, cellular function and extracellular matrix renewal are so significant that Centella Asiatica is clinically recognized for improving treatment of wounds, as well as burns, psoriasis and scleroderma.
The mechanism of action involves promoting fibroblast proliferation and increasing the synthesis of collagen and intracellular fibronectin content - fibronectin fibers allow the connection of collagen fibers to the fibroblast integrin. It also improves the tensile strength of newly formed skin and it inhibits the inflammatory phase of hypertrophic scars. The centellosides are also able to stimulate glycosaminoglycan, especially hyaluronic acid synthesis.
Centellosides are very efficient at supporting skin restructuring and research indicates that they can be used on photoaging skin, cellulite and striae.
.
Organic Silica
Orthosilicic acid (non-crystalized silica)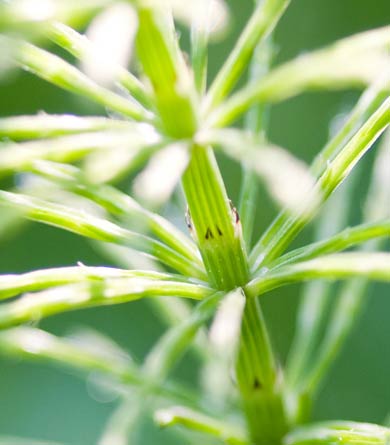 Silicon is an essential mineral that is naturally present in the human body. It play a major role in bone strength, healthy skin and nails and cartilage formation. Silicon has a strong indicence on the structure of the connective tissue, in renewing collagen and elastin fibers and in improving skin firmness from the inside out. It also acts as a protective agent on cellular membranes and delays significantly the onset of wrinkled skin. Silicon also increases hair follicle shaft diameter and tensile strength. Other benefits include enabling efficient calcium absorption which manifests itself in bone formation and visibly strengthened fingernails.
Silicon is widely available and abundant in nature but its bioavailability is very poor. It is an extremely unstable compound that crystalizes very quickly forming an insoluble inert substance. Its absorption is drastically low and it can't be utilized by the human organism.
Ceraderm™ contains a stable high absorption form of dietary silicon. It is an ortho-silicic acid molecule stabilized in maltodextrin. It is stabilized by a proprietary method that inhibits the polymerization of ortho-silicic acid, keeping the molecule stable and increasing its bioavailability in the body.
UNDERSTANDING SKIN MOISTURIZING
A beautiful skin is a moisturized skin. It is water that gives the skin its supleness. Without water, the skin would be rough, totally dry and lifeless. Skin dehydration is linked to 2 physiological mechanisms that kick in with time: the gradual disappearance of hyaluronic acid and the loss of ceramides, altering the epidermis porosity and rendering it unable to prevent water loss.
The disappearance of Hyaluronic Acid
Hyaluronic acid is the molecule that grabs water. It allows collagen fibers to bathe into a supple and mosturized environment. But with time it gradually disappears and at age 50 its concentration has been cut in half compared to youthful levels. This alteration causes the collagen fibers to dry up and to aggregate into rigid and compact clusters. This phenomenon strongly contributes to the formation of wrinkles, making the skin appear older.
Increasing Hyaluronic Acid concentration at the dermis level can help restore the suppleness of the skin and improve its appearance.
The depletion of Ceramides
The external layer of the skin (stratum corneum) is composed of cells sealed together like mortar and cement by epidermal lipids mostly composed of ceramides. These surface lipids act as a barrier against micro-organism invasion but they also prevent water evaporation and skin dehydration. With the loss of ceramides, the skin surface becomes porous which leads to barrier permeability and lower moisture levels.
Restoring skin barrier integrity in order to curtail transcutaneous water loss is central to keeping supple and hydrated skin.
Ceraderm to help preventing the withering of the skin
---
Ceraderm provides on the global surface of the skin, through the blood stream, hyaluronic acid molecules and phytoceramides. The former increase water retention while the latter will gradually restore the water barrier to retain it. The skin is efficently moisturized again and it will slowly regain its plumpness. The benefits of ceramides oral intake were evaluated and significant results start to show after 15 days. The results improve with prolonged use over the course of several months. The skin's moisture level increases and there are also benefits on skin elasticity and on reduction of wrinkles visibility.
STOPPING THE SKIN'S DESTRUCTION SPIRAL
Within the dermis there are cells called fibroblasts that are responsible for the regulation of the skin's structural elements. And the fibroblasts are attached to the collagen fibers by connective points called the integrins, which maintains them in s state of mechanical tension. This stretching effect is crucial for their correct functioning.
The weakening of the collagen fibers network caused by aging makes the fibroblast lose its anchoring points and it leads to its collapse. It will then produce less collagen and more destructive enzymes (collagenase, elastase) which will further degrade the skin and make its atrophy even worse in a destructve spiral.
Proven physiological effects of Ceraderm and what you can realistically expect:
✓
Stimulates collagen production
✓
Increases elastin concentration
✓
Restores deep moisturizing with hyaluronic acid
✓
Prevents the skin's loss of water with ceramides.
✓
Supports the skin's architecture with Centellosides
✓
Reactivates the cells in charge of regenerating the skin's structure
The end result is a visible reversal of the effects of aging on the skin.
More Information

| | |
| --- | --- |
| Subtitle | In depth comprehensive skin program and complete moisturizing process |
| In Stock Date | N/A |