Pureskin
Reduces wrinkles depth, increases skin elasticity and protects against premature aging
PURESKIN is the global skin product. It preserves the skin's glow with powerful antioxydants. It supplies an effective form of Collagen I and III and hydrating internal molecules with a the patented Hyaluronic HJ Complex. The result is a visible reduction in wrinkles and an increase in skin elasticity.
With collagen type I and III, MSM and very powerful high-end antioxidants, PURESKIN is able to restore your skin's plumpness and visibly improve its texture and tone in just a few weeks. Prolonged use will counter the visible aspects of aging and will help your skin maintain its youthful appearance.
Buy 2 for

€58.90

each and save

5

%
Buy 3 for

€55.80

each and save

10

%
Buy 4 for

€52.70

each and save

15

%
SUPPLEMENT FACTS
Serving size: 3 caps / Servings per container: 40
Vitamin A (beta-carotene USP 10%)
1665 IU
33.5%
Vitamin E (tocopherol mix)
15 mg
75%
Zinc (Zinc Citrate @ 30% elemental zinc)
7.5 mg
50%
Selenium (as L-Selenomethionine)
25 µg
35%
Collagen peptides HP-BCP type I & III
1250 mg
*
MSM (Methylsulfonylmethane)
500 mg
*
Hyaluronic Complex HJ complex™
37.5 mg
*
Grape Seed Extract (standardized to 95% procyanidins)
100 mg
*
Astaxanthin (Haematoccous Pluvialis microalgae @ 5%)
3 mg
*
Lycopene (tomato extract @ 5%)
10 mg
*
* Daily value not established
Other ingredients: Magnesium stearate, gelatin (capsule)
As a dietary supplement, take 3 capsules twice daily with water or as directed by a health care professional. Use regularly for several months.
Caution: Pregnant or nursing mothers, children under 18 and those with a medical condition should consult a health care professional before using this product.
PRODUCT DETAILS
---
Collagen HP-BCP (Skin)
High Potency Bioactive Collagen Peptides Type I & III
Collagen accounts for more than 70 % of the skin structure, most of which is located between the skin's surface and the fatty tissue beneath. With age collagen production slows down and it is estimated that we lose collagen at a rate of 1.5% to 2% per year from age 30 onwards. Additionally, the remaining collagen fibers become dehydrated because of the depletion of hyaluronic acid and because of oxidative stress. With the loss and breackdown of collagen deep in the dermal layer, the skin gets thinner, wrinkles begin to set in and skin discoloration becomes increasingly visible.
Usefulness of Collagen Supplementation
It has been heavily debated but recent studies show that specific forms of collagen peptides have a positive impact on the skin structure. The results of a 2009 japanese study suggest that "…ingestion of collagen peptide improves the function of deeper regions of the skin rather than function of the outermost epidermal regions", unlike the surface mode of action of skin care creams.
Supplementation with collagen peptide not only increases levels of collagen in the skin - which makes skin more firm and supple - but also reduces the activity of collagenase, an enzyme that breaks down collagen.
In the Journal of Agricultural and Food Chemistry in 2009, Shigemura and al. writes that "…collagen peptide exhibits its effects on health and beauty through mechanisms unique to collagen peptide" and that "Collagen has unique properties that are not found in other proteins, and these properties may be the reason for the effects of collagen peptide ingestion on bones, joints, skin, hair and nails."
The type I collagen provides strength and resistance to the tissues but type III collagen is extremely important as it gives skin its elasticity. Supplying a potent form of collagen is proven useful, but there are many ways to hydrolyse collagen yielding widely different results. The high potency Bioactive Collagen Peptides (HP-BCP Verisol®) is clinically proven to significantly reduce the appearence of wrinkles and increase the skin elasticity by 15%. Period.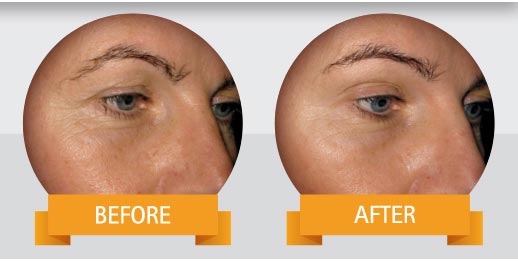 Unlike most skin care products making use of highly subjective and misleading self-assessement "studies", the special HP-BCP collagen peptides results and pictures come from published clinical trials. It means a totally different level of reliability.
Skin elasticity increased significantly after oral HP-BCP Collagen treatment in comparison to placebo administration. The study involved 69 women aged between 35 and 55 years. This effect could be measured after just 4 weeks of treatment and persisted after 8 weeks.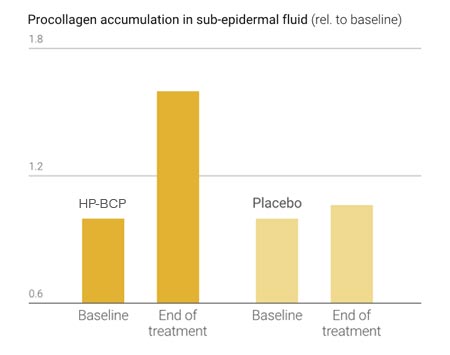 HP-BCP Collagen significantly reduces wrinkles after 4 weeks of oral administration. The study involved 100 women aged between 45 and 65 years and showed that the procollagen concentration in the skin increases by 60%.
.
Hyaluronic HJ Complex
the greatest natural moisturizer!
There is simply no other ingredient that comes even close to HA for hydrating and giving skin its fullness. HA is often called the "Moisture Magnet" since it has the amazing ability to hold up 1000 times its weight in water. Because of this remarkable ability to attract and bind water molecules, HA provides a plump, spongy effect to the skin and as water is absorbed, volume is created. But it also maintains the collagen fibers in the skin hydrated and healthy, while contributing to collagen synthesis.
As we age HA levels decline, and men and women gradually see their skin lose volume and elasticity. The decrease of HA levels in the skin generates the most startling degradations of the ageing skin, including dryness, loss of support for micro-circulation and the clumping of collagen fibers into rigid and compact clusters. With poor hydration and the formation of dry collagen bundles that are insoluble, the skin becomes rugged and starts to develop fine lines and wrinkles.
PURESKIN contains a quality bioavailable high-absorption HA complex. Particularily well assimilated, it spreads from the inside to all tissues of the body, quickly rehydrating the whole of the skin surface. The skin regains elasticity, a better texture and a reduced appearance of wrinkles.
VITAMIN E
Vitamin E is not just alpha-tocopherol
Vitamin E is a critical antioxidant. It protects lipids from oxydation, which prevents the destruction of the body's cellular membranes. However there are 8 different forms of Vitamine E, and until recently it was believed that simply taking the alpha-tocopherol form was good enough. It has reached a point where alpha-tocopherol has become synonymous with Vitamin E, but we now know that another form, the gamma-tocopherol is equally important and has a very complemental action.
Gamma-tocopherol is even more effective in protecting cellular membranes as it protects from the effect of nitric oxide which tends to harden the cell membranes, this is known as "cell membrane lipid peroxydation". The synergy is at work because while the alpha-tocopherol neutralizes the free radicals, the gamma-tocopherol traps the nitric oxyde.
It is therefore much preferable to avoid taking alpha-tocopherol alone, especially since it has been observed that large doses of alpha-tocopherol intake reduces the amount of gamma-tocopherol present in the tissues by 30 to 50%, which further widens the imbalance.
MSM
(Methylsulfonylmethane)
MSM is a bioavailable natural form of organic sulfur found in all living organisms. It is exceptionally well tolerated, it is rated as one of the least toxic substances in biology, close to water.
Sulfur is necessary for making collagen and keratin, the primary constituents of skin, hair and nails. By normalizing the production of healthy collagen, MSM is able to prevent the gradual degradation of collagen fibers and their tendency to aggregate which would make the skin lose its suppleness.
Moreover, MSM enables the cells to better eliminate toxins and metabolic waste products by making cell walls more permeable. Stiff cellular barriers is very unhealthy and can also visibly affect the appearance of the skin as it prevents water and essential nutrients from moving into the cells while toxins can't be flushed out.
Antioxydant Protection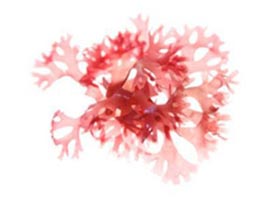 Astaxanthin
This carotenoid found in some microalgae, krill, shrimp or salmon posesses exceptional antioxidant properties. It has a beneficial action on all layers of the skin and recent studies have shown over a period of 8 weeks a significant reduction of fine lines and wrinkles as well as an improvement of elasticity higher moisture levels.
.
Vitamin E
By protecting lipids from oxidation it prevents the destruction of cellular membranes. Different forms of vitamine E exist and we know today that taking only the alpha-tocopherol form is a mistake. The gamma-tocopherol plays a role just as important against oxidation in a way that alpha-tocophérol can't provide.
.
L-Selenomethionine
It is an organic bioavailable form of selenium. Well absorbed it helps producing glutathione peroxydase, an enzyme that works as a team with vitamin E in protecting cellular membranes against free radical oxydation. Selenium has the ability to rid the body of heavy metals.
.
Beta-carotene
Beta-Carotene is a provitamin A, which means it readily converts to Vitamin A in your system when needed without any risk of overdosing. Vitamin A is an important antioxidant that plays a vital role in eye health and in the maintenance of healthy skin and mucus membranes.
.
Grape Seed Extract
GSE is an extremely powerful antioxidant that slows down the rate of aging and wrinkling of the skin. It contains OPCs (Oligomeric Proantho-cyanidins) that protect the skin collagen against the effects of collagenase, an enzyme that destroys collagen. The OPCs increase vitamine C 's ability to stimulate collagene and elastin synthesis. It also helps counteract the free radical damage induced by sun exposure.
.
Lycopene
Lycopene has a very powerful free-radical scavenging ability, especially against those derived from oxygen which are the most aggressive and capable of causing extensive cell damage. Because lycopene is largely found in the cells membranes, it protects them effectively and improves skin cellular function. Lycopene also protects skin from UV damage and prevents premature aging.
* These statements have not been evaluated by the Food and Drug Administration. This product is not intended to diagnose, treat, cure, or prevent any disease.
More Information

| | |
| --- | --- |
| Subtitle | Reduces wrinkles depth, increases skin elasticity and protects against premature aging |